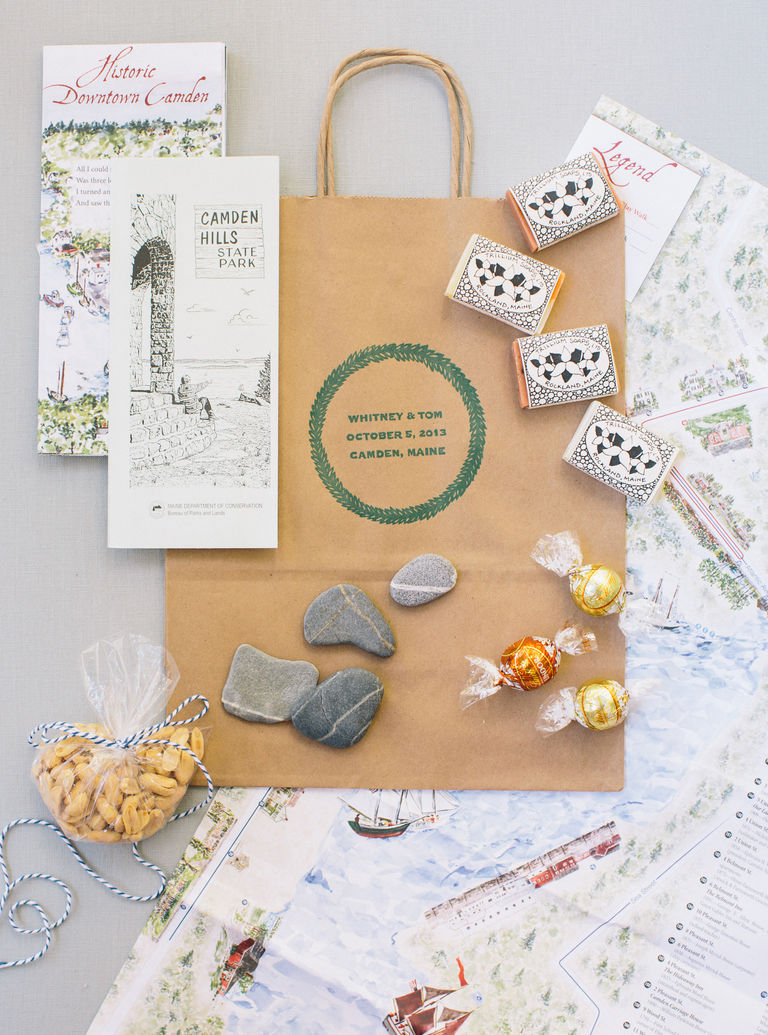 Close your eyes and envision your destination wedding. You're patiently waiting to greet your guests with a loving smile and open arms. One by one your friends and family arrive looking a bit disheveled and puffy, after putting in a full day of travel. Even after making full use of airline amenities or several road trip pit-stops, traveling can be draining. Now imagine that the moment your guests open the doors to their hotel accommodation; they are greeted by a beautifully packaged welcome bag filled with personalized treasures.
Your guests travelled far and wide to celebrate your love. Greeting your guests with a gift of rejuvenation demonstrates your appreciation and love. These goodies will set the tone for your wedding and have guests ready to jump into a cocktail dress and PARTY. We've collected some tips & tricks so that you can curate the ultimate wedding welcome bag!
The Essentials
The perfect wedding welcome bag will feel festive, playful, and completely personalized. In terms of design, we encourage you to keep it on-brand with your wedding day theme. A thoughtfully put together welcome bag will often include most or all of these essential items:
1. Personalized Stationery
Don't let a lack of communication add stress to your guests. A welcome bag should always include some practical information - itineraries, transportation details and activity guides are just SOME stationery ideas that you can include for your guests to refer to. If you are feeling whimsical, try including a custom illustration of your venue or the local area. Work with an artist who can complement your wedding suite concept that is consistent with your overall design concept. Trust us, your guests will LOVE anything custom. Wax seals, calligraphed notes, or any sort of monogrammed label will help make your welcome bag shine. If you are concerned about your budget but still want a custom design detail, invest in a custom crest or monogram. This personalized touch can be used throughout your wedding on invitations, wax seals, vow stationery, cocktail napkins, and welcome bags.
2. Water
We know that this might sound superfluous. But, after a long day of travel or a late night of dancing, bottled water is the first thing your guests will want. Bottled water can get unnecessarily pricy, so including water in your welcome bag is a thoughtful gesture that will spare your guests a couple bucks. Or, if your wedding venue has mountain spring water straight out of the tap, skip the bulky bottled water altogether and instead opt for powdered electrolyte additives to help curb the hangover.
3. Snacks, Snacks, and More Snacks
Adding some munchies (any munchies) to your welcome bag will be a huge hit. To add a pinch of personalization and character, utilize the local culture and choose some snacks that nod towards the native character. Also, toss in some of your or your partner's go-to favorites - after all, this event is all about YOU.
4. Cocktails
Including spirits or bubbly (and everything in between) in your welcome bag is a festive way to spice up your welcome bag. No matter what age your guests are (21+ of course) everyone loves a pre-cocktail cocktail. Liquor shooters are a party favorite and mini sparkling wine bottles are oh-so cute.
5. Presentation is Everything
The packaging or your gift bag itself sets the tone for what's inside! When you are doing your research, keep an eye out for form AND function. Make sure to purchase something that your guests can practically reuse. Just because some of the goodies inside won't last past the wedding, doesn't mean the bag itself shouldn't. Keep your packaging appropriate for the destination and overall theme, but careful to not over-personalize so your guests can practically reuse your wedding tote as their new favorite beach bag.
6. All Things Local
Adding local flair to your welcome bag is a must. Not only will you let your wedding destination shine, you will also support local businesses. From crafts by local artists to handmade treats, if you are having a destination wedding, showcasing local culture and charm should be a priority. Nothing screams 'Welcome' more than a tribute to your destination. In The Lost Sierra, we are partial to velvet ribbons, cow-hide notebooks, a winter trail guide, and of course toffee candy. Fuse together your wedding design concept with the season and destination for a welcome bag to remember.
The Upgrades
Along with the essential goodies, if you are feeling boogie, splurge for some of these upgrades. Any detail that is above and beyond will be that much more appreciated by your guests.
7. Lotions & Soaps
An organic soap, SPF, hand cream, or bath bomb might not be essential but does make for the perfect upgrade. Any travel-sized toiletry that is an upgrade from hotel bath products will do wonders for your guests' relaxation. Also, this welcome bag upgrade shows that you are willing to go above and beyond to ensure your guests are comfortable. Pro tip: if you are hosting a destination wedding in a rural or mountainous area, include a mini bug spray. Nothing ruins a mood quite like copious amounts of bug bites!
8. Ribbon
A present without ribbon is slightly less exciting. Whether you are loving velvet, gauze, or luxe silk, a ribbon to top your packaging is the perfect finishing touch. Don't forget to stay on brand! If you are having a summer wedding, consider leaving the velvet behind.
9. Practical Textiles
Pashminas, picnic blankets, beach towels, and wool blankets are just a few fabric gifts that speak to the seasonality of your wedding. Take your bag to the next level and be creative with textiles that are both sensible and add texture.
10. Something Seasonal
From produce to fragrances and florals, seasonal goods are sure to embody the natural ambiance that accompanies the shifting seasons. The season in which your wedding falls under plays a principal role in setting the tone for your event. Gifts that complement the overall seasonal mood will evoke sentimentality. Everything from spring scents to warm apple cider and gingerbread will embrace your guests with affection.
Tips for A Stress-Free Welcome Bag Design!
- A welcome bag, above all else, is about appreciation - and appreciation doesn't directly mean expensive. Focus on your guests' needs with a thoughtful and sentimental approach rather than getting overwhelmed about budgeting. Anything from a personalized note to a jam-packed bag of products will show your gratitude - don't fret if it's not in the budget to go above and beyond.
- Plan ahead! Outsource the delivery of your goodies and coordinate with either your wedding planner or venue director. Put all delivery details in the responsible hands of one of your planning partners so that you can just kick back and enjoy the planning process rather than stressing about 150 welcome bags.
- Ask your wedding planner to design your welcome bag. Focused on aesthetics and design details, they will make sure that every element of your welcome bag is cohesive with your overall wedding design concept. This will ensure that the goodies you have put so much time and thought into don't end up looking like a mish-mosh of random items and rather a curated presentation of gifts.