Whether you're considering formal china paired with luxurious accents or a modern display of ceramics and matte flatware, the pieces that adorn your tables will impact the entire tone of your reception. Playing with linens, florals, candleholders and MORE will add a touch of panache to your tablescape and allow your personal style to shine. Looking at a tablescape snapshot can be a bit dizzying - so, to guide you, we are breaking down the elements of a tablescape into form and function.
Function
Place Settings
The first step in planning out your idyllic tablescape is to consider the menu style of your reception. If you have chosen a formal, multi-course meal, your place setting will require a full collection of dishes, flatware, and glassware. This will most likely entail bread baskets and butter ramekins, multiple plates, an assortment of flatware appropriate for each course, and glassware for each beverage you are choosing to offer (water, wine, champagne, etc.). A more informal reception style will require a condensed version of the place setting - perhaps one plate, a dinner fork and knife only, and a water glass paired with an all-purpose wine glass.
Feel free to mix and match according to what your reception entails - there are no rules! Decorative chargers, placemats, napkin rings, champagne flutes and salt and pepper shakers are additives that may also adorn your tables, while maintaining function. Many venues have an included collection of table settings. However, if you prefer additional items and/or an alternative style, look into outsourcing tableware rentals.
Linens
The backdrop for a jaw-dropping tablescape is the linens. Tablecloths, napkins, table runners, and ancillary table linens are all standard necessities. Utilize this functional element to add depth to your tablescape design by playing with textures, patterns, and your color scheme. In terms of the napkin, explore different folds with your event designer to create a statement. Try water-falling the napkin off the table, creating a pocket to place stationery or cutlery in, or knot the textile to create a focal point that pops off the plate.
Chairs
This goes without saying; your guests are going to need something to sit on. Although this piece may feel like a no-brainer, there are endless options to choose from. From ghost chairs to wooden cross-backs and Chiavari chairs, search for a piece that will complement your wedding vibe.
Stationery
When initially considering stationery design, it is easy to overlook paper elements typically incorporated into a tablescape. Menus, place cards and table numbers are all fundamental additives that will keep your guests informed. Pro tip: provide ingredient notations on your menu just in case anyone has dietary restrictions. Layering paper goods will add texture and structure when paired with various décor. All stationery included in your tablescape should mimic your invites in order to maintain consistency throughout the wedding day.
Form
Centerpiece
This tabletop accessory is by far the most important when it comes to creating a cohesive wedding theme. There are two avenues that you can explore: floral heavy centerpieces or object heavy centerpieces - naturally, both elements are typically utilized throughout tabletop décor. If you have a distinctive texture-heavy wedding theme, weave in alternative elements such as feathers, beading, or dried elements into your florals. Combining materials and styles that embody your aesthetic is key - build your tablescape around pieces that you LOVE and that represent YOU. Objects such as antique decorative books, colorful geode stones or modern ceramics are just some object concepts that can accentuate your wedding design while also speaking to your personalities.
Favors
Wedding favors are a lighthearted additive that fashion playfulness and personalization to any tablescape. Placing a small gift on top of or above each plate is a lovely surprise for guests when they sit down to eat. Candles, honey jars, and customized matchboxes are just a few of our favorite fun-sized favors. This is a marvelous opportunity to incorporate a short and sweet 'thank you' to your guests for attending. Try attaching a hand-written note or coordinating stationery tag to your favor for a touch of extra personalization.
Inspiration
Are you looking for something more modern? Does your inspiration stem from bohemian vibes? Are you hoping for a rustic family dinner? Regardless of whichever tablescape style you are feeling drawn to, we've got you covered! Take a look at some of our favorite tablescapes that are guaranteed to leave you feeling inspired.
Formal Table Setting Example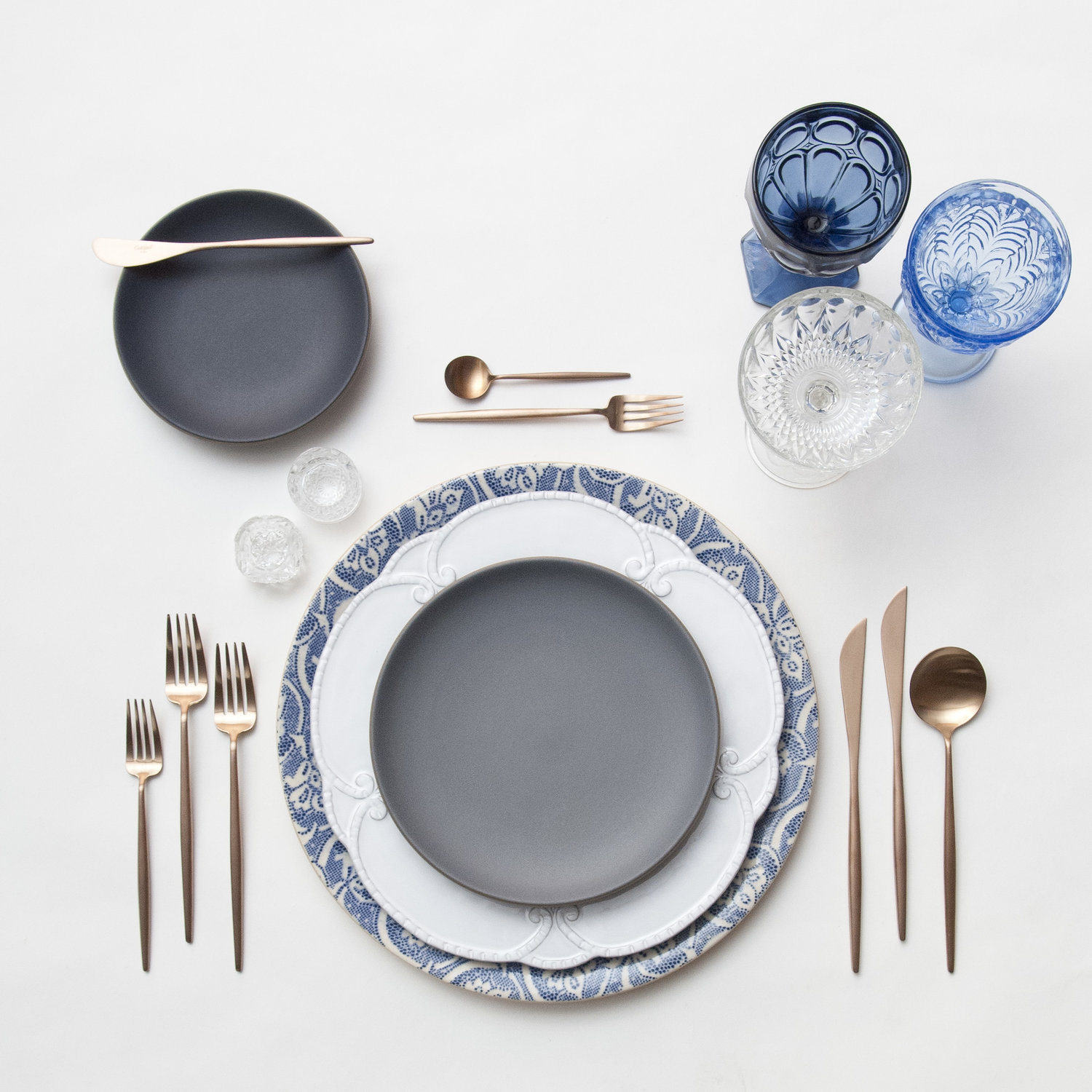 Casual Table Setting Example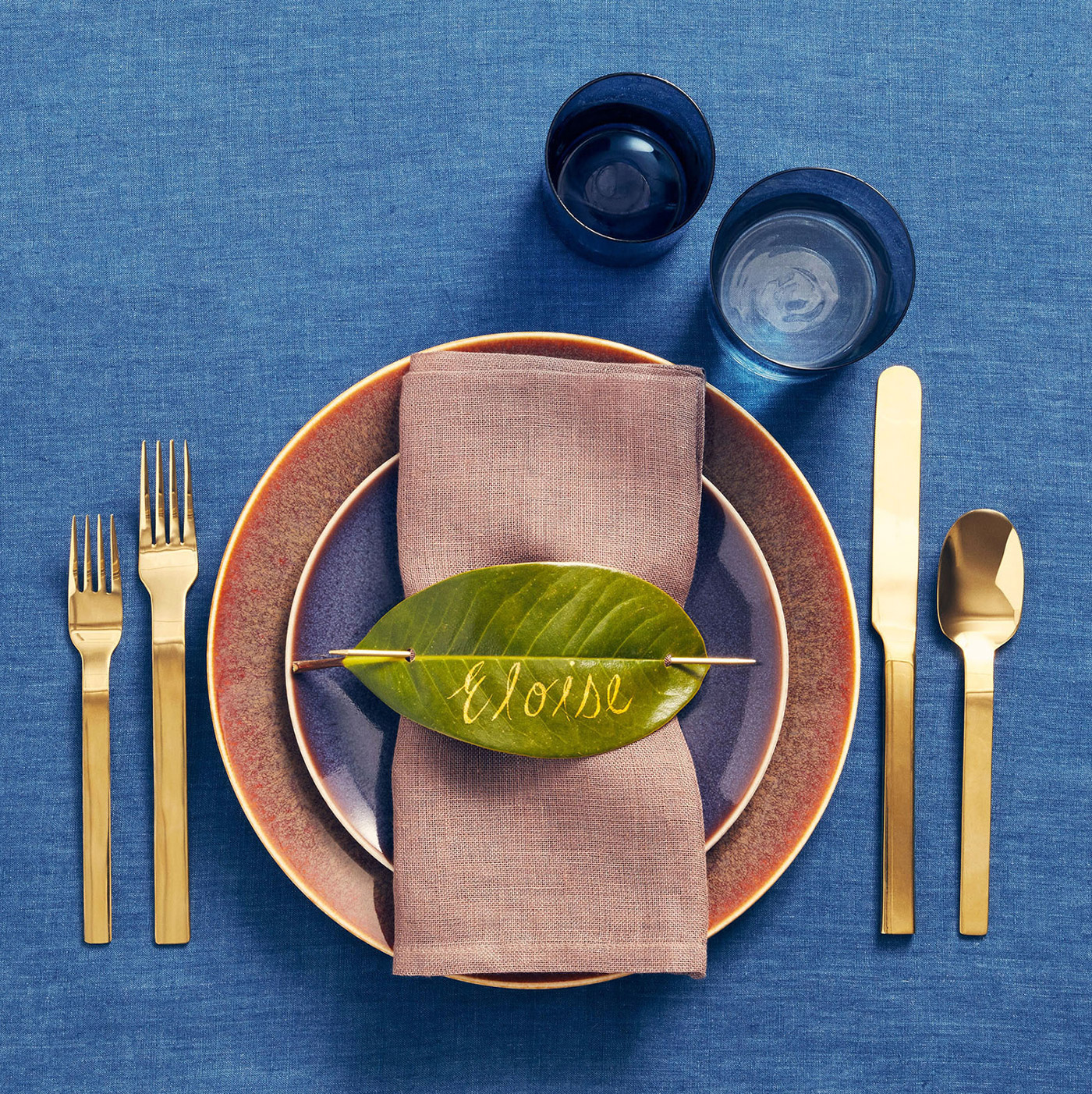 Table Setting Without Plates
Contemporary Colorful Table Setting
Table Setting Featuring Black